WEDNESDAY NIGHT

WITH BISHOP SHERMAN J. BUTLER, SR.

*Midweek Bible Class Postings: Updated Weekly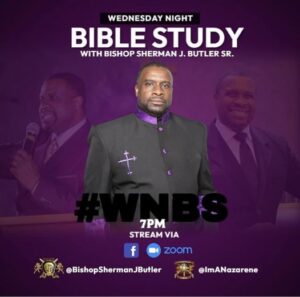 MAY 31, 2023

Preparing to Receive the HOLY GHOST

Bishop Sherman J. Butler, Sr.

"

Bring forth therefore fruits meet for repentance:

" (Matthew 3:8, KJV)
SANCTIFY yourselves for the HOLY GHOST. Yes, John the Baptist instructed us to REPENT

(Matthew 3:8, KJV)

. This is the State of Conversion: "

Repent ye therefore, and be converted, that your sins may be blotted out, when the times of refreshing shall come from the presence of the Lord

" (Acts 3:19, KJV). The first STAGE. NEXT, you need to be SANCTIFIED – CLEAN (1 Thessalonians 5:23). Then you can be FILLED WITH THE HOLY GHOST

(Acts 2:1-4, KJV)

.
You need to get rid of EVERYTHING that is HINDERING YOU FROM BEING CLEAN.
You are BOUGHT WITH A PRICE, and no longer the same when you turn to righteousness: "For ye are bought with a price: therefore glorify God in your body, and in your spirit, which are God's" (1 Corinthians 6:20). THERE SHOULD BE A CHANGE. The HOLY GHOST WILL NOT DWELL IN AN UNCLEAN TEMPLE. Change from UNCLEAN habits because you cannot do both (1 Corinthians 10:21, KJV). "

For the wages of sin is death; but the gift of God is eternal life through Jesus Christ our Lord.

" (Romans 6:23, KJV).
We have to SANCTIFY OURSELVES. It is BEST to ABSTAIN from (ALL the appearance) of EVIL (1 Thessalonians 5:22, KJV). Get rid of SINFUL behavior: "

Wherefore seeing we also are compassed about with so great a cloud of witnesses, let us lay aside every weight, and the sin which doth so easily beset us, and let us run with patience the race that is set before us,

" (Hebrews 12:1, KJV). Get rid of everything that seems evil and would separate you from GOD. Ask yourself, "What would JESUS DO? And can I do THIS (action) in front of GOD?" DON'T CONTINUE IN SIN (Romans 6:1, KJV). We must PRAY: "

Create in me a clean heart, O God; and renew a right spirit within me

" (Psalm 51:10, KJV). We need to PURGE (Clean) things out of our heart, homes and lives

(1 Corinthians 5:7, KJV)

. Pray always

(Luke 18:1, 1 Thessalonians 5:17)

. Don't put yourself in a situation to sin: " Submit yourselves therefore to God. Resist the devil, and he will flee from you" (James 4:7, KJV).
WAIT (Tarry) and PRAY for the HOLY GHOST as promised (Acts 1:4-5, KJV) – MAKE GETTING THE POWER OF THE HOLY GHOST YOUR PRIORITY! "

But ye shall receive power, after that the Holy Ghost is come upon you: and ye shall be witnesses unto me both in Jerusalem, and in all Judaea, and in Samaria, and unto the uttermost part of the earth" (Acts 1:8, KJV).



Matthew 3:8, 1 Corinthians 7:5, Romans 6:23, 1 Thessalonians 5:22-23, Hebrews 12:1, Romans 6:1, Luke 12:47, 1 Corinthians 5:7, Hebrews 10:25, James 4:7, Acts 1:4, Galatians 5:7
Nazarene All Nations Church | 6500 S. Ashland Ave, Chicago, IL 60636 | (773) 778-8500 ph.| sabbathnews1@gmail.com