WEDNESDAY NIGHT

WITH BISHOP SHERMAN J. BUTLER, SR.

*Midweek Bible Class Postings: Updated Weekly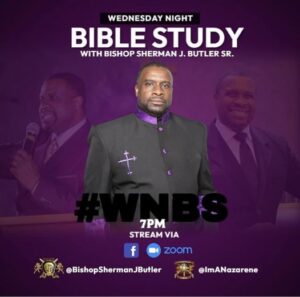 JANUARY 25, 2022

CAN YOU TRULY BE DELIVERED FROM EVIL (INSIDE OF YOU)?

Bishop Sherman J. Butler, Sr.

"And lead us not into temptation, but deliver us from evil: For thine is the kingdom, and the power, and the glory, for ever. Amen."
Temptation will always be present: someone making you upset or otherwise. Evil is REAL. PRAY! Romans 7:21 (KJV) notes, "

I find then a law, that, when I would do good, evil is present with me.

"

One way to RESIST temptation is to FIRST recognize (acknowledge) what's in you.

The only way to AVOID temptation is to bind all (any) spirit dealing with you through the Blood of JESUS. The spirit of evil is present, but DO NOT FEAR:
"

Yea, though I walk through the valley of the shadow of death, I will fear no evil: for thou art with me; thy rod and thy staff they comfort me.

" (Psalm 23:4, KJV).
Don't fear evil: "

There is no fear in love; but perfect love casteth out fear: because fear hath torment. He that feareth is not made perfect in love.

" (1 John 4:18, KJV).
Don't worry about the evil that's in someone else, but rather PRAY on any evil that is in you. You will be tested and tried. PRAY, "LORD, HELP ME TO TRULY BE DELIVERED FROM EVIL". 1 Thessalonians 5:22 (KJV), "

Abstain from all appearance of evil.

" PRAY and be STRONGER IN THE LORD, "Finally, my brethren, be strong in the Lord, and in the power of his might" (Ephesians 6:10, KJV). You will be TESTED and you should want to PASS THE TEST. YOU NEED POWER: "

But ye shall receive power, after that the Holy Ghost is come upon you:

…" (Acts 1:8, KJV).
Yes, there are individuals who love to do evil things, but the LORD can DELIVER US (Matthew 6:13, KJV)! "

Woe unto them that call evil good, and good evil; that put darkness for light, and light for darkness; that put bitter for sweet, and sweet for bitter!" (Isaiah 5:20, KJV)

. Pray for the LORD to COVER YOU WITH THE BLOOD OF JESUS and for HOLY GHOST POWER to RESIST temptation. We even have to WATCH OUR MOUTHS (and what we say about others): "The fear of the

Lord

is to hate evil: pride, and arrogancy, and the evil way, and the froward mouth, do I hate." (Proverbs 8:13, KJV). Check yourself, to see if you have evil dwelling down on the inside – it will come out: "

For all have sinned, and come short of the glory of God;

" (Romans 3:23, KJV). You need the WORD of GOD in your heart: "

Thy word have I hid in mine heart, that I might not sin against thee.

" (Psalm 119:11, KJV). Be careful of where you go, what you say, and what you do: "

In all thy ways acknowledge him, and he shall direct thy paths.

" (Proverbs 3:6, KJV). Don't be quick to anger and revenge: "

Dearly beloved, avenge not yourselves, but rather give place unto wrath: for it is written, Vengeance is mine; I will repay, saith the Lord.

" (Romans 12:19, KJV). Think positively (Philippians 4:8, KJV). GOD is WITH YOU! DON"T ever get out of the will of GOD. Man can only do what GOD allows, so DO NOT FEAR EVIL!

GOD IS GREATER

THAN THE ENEMY!
"

Ye are of God, little children, and have overcome them: because greater is he that is in you, than he that is in the world.

" (1 John 4:4, KJV).
"

Finally, brethren, whatsoever things are true, whatsoever things are honest, whatsoever things are just, whatsoever things are pure, whatsoever things are lovely, whatsoever things are of good report; if there be any virtue, and if there be any praise, think on these things.

" (Philippians 4:8, KJV).
"

(For the weapons of our warfare are not carnal, but mighty through God to the pulling down of strong holds;)

" (2 Corinthians 10:4, KJV).
CAN YOU TRULY BE DELIVERED FROM EVIL (INSIDE OF YOU)? YES!
"

Blessed are they which do hunger and thirst after righteousness:
for they shall be filled.

"
(Matthew 5:6, KJV).

Matthew 6:13, Romans 7:21, Psalm 23:4, Ephesians 6:10, Isaiah 5:20, Romans 3:23, 2 Corinthians 10:4, Psalm 5:4, Romans 12:19, Philippians 4:8, Genesis 6:5-7, 2 Chronicles 7:14

Nazarene All Nations Church | 6500 S. Ashland Ave, Chicago, IL 60636 | (773) 778-8500 ph.| sabbathnews1@gmail.com