WEDNESDAY NIGHT

WITH BISHOP SHERMAN J. BUTLER, SR.

*Midweek Bible Class Postings: Updated Weekly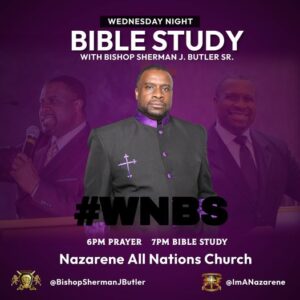 SEPTEMBER 27, 2023

Bishop Sherman J. Butler, Sr.

"

Ye did run well; who did hinder you that ye should not obey the truth?

"
We have to ask, "What is hindering me?" Unforgiveness, fear, doubt, sin, and selfishness.
Sometimes it is us that are holding up our own healing, deliverance, and blessing. There are things that we have not done, such as forgiving
(Mark 11:25, KJV).
Something is hindering you. We have to LET IT GO. There are people, things, and thoughts that are hindering us. And GOD KNOWS EVERYTHING ABOUT YOU. As long as there is breath in your body, GOD can forgive you. The LORD forgave King David for adultery and the murder of Uriah the Hittite, in the Bible (2 Samuel 11-12, KJV). GOD is a merciful, forgiving, and kind GOD. No matter what you may have done in your life, don't allow it to hinder you from deliverance. We make mistakes, which is why we need the WHOLE ARMOR of GOD (Ephesians 6:10-21, KJV).
"

For what shall it profit a man, if he shall gain the whole world, and lose his own soul?

" (Mark 8:36, KJV). When you want the LORD truly, you will remove those things that hinder you and walk away from it. Other things, GOD will remove for you. When GOD has a call on your life, he will remove hindrances. Be careful. Do not play with GOD.
It is so IMPORTANT for you to get your DELIVERANCE: Through JESUS CHRIST OUR LORD AND SAVIOR, tell the devil that GOD IS ON YOUR SIDE and YOU CANNOT LOSE: "

No weapon that is formed against thee shall prosper;

" (Isaiah 54:17, KJV). Fear (of the known and unknown), unforgiveness (of yourself and others), or doubt can also hinder you. WALK IN FAITH

(Hebrews 11:1. KJV)

. Walk in BELIEF, even if others do not BELIEVE. TRUST that GOD is with you (Romans 8:31, KJV). "Trust in the

Lord

with all thine heart; and lean not unto thine own understanding" (Proverbs 3:5, KJV). You don't have to stay in a LOW state. GOD can take you higher: "and the wealth of the sinner is laid up for the just" (Proverbs 13:22, KJV). Do not give over to the flesh – sin can also hinder you
WAIT ON THE LORD for your blessing. When you give in to the flesh and lack power, you are delaying your blessing. PRAY for HOLY GHOST POWER (Luke 24:29, John 14:26, Acts 1:8, Acts 2:1-4)! You cannot get GOD'S blessing, serving the enemy:
"
Ye cannot drink the cup of the Lord, and the cup of devils: ye cannot be partakers of the Lord's table, and of the table of devils" (1 Corinthians 10:21, KJV)

. You must forgive and LET IT GO! Also, DO NOT LET FEAR HAVE RULE OVER YOUR LIFE: "There is no fear in love; but perfect love casteth out fear: because fear hath torment. He that feareth is not made perfect in love" (1 John 4:18, KJV).
Be healed. Raise your level of FAITH. DO NOT allow, unforgiveness, doubt, nor fear in your life.
Be careful of the spirit of selfishness. Combat it with prayer and giving. When you GIVE, the LORD will bless you

(Malachi 3:10, 2 Corinthians 9:7, KJV)

.

PRAY ALWAYS (Luke 18:1, 1 Thessalonians 5:17, KJV). You need to want GOD COMPLETELY.
GOD can DELIVER YOU COMPLETELY!
WAIT ON THE LORD:
"
But they that wait upon the

Lord

shall renew their strength; they shall mount up with wings as eagles; they shall run, and not be weary; and they shall walk, and not faint" (Isaiah 40:31, KJV).
TRUST AND BELIEVE WHAT GOD IS SAYING – LET HIM IN

(Proverbs 3:5, Isaiah 55:11, Matthew 7:7)

.
He is NEVER TOO LATE. GOD IS ALWAYS ON TIME! SAY, "YES LORD!"

Galatians 5:7, Mark 11:27, Ephesians 6:10-21, Mark 8:36, Isaiah 54:17, Hebrews 11:1, Proverbs 3:5, 1 Corinthians 10:21, 1 John 4:18
Nazarene All Nations Church | 6500 S. Ashland Ave, Chicago, IL 60636 | (773) 778-8500 ph.| sabbathnews1@gmail.com