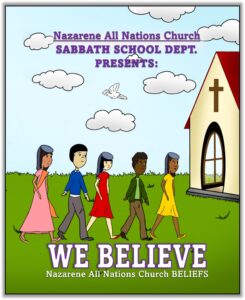 NANC
SABBATH SCHOOL
WE BELIEVE

NAZARENE ALL NATIONS CHURCH BELIEFS
ACTIVITY BOOK

We are a church that follows the Holy Bible as it is written. Our church was built on a solid foundation, a foundation stabilized by the Ten Commandments.
I am so grateful to have received this WORD and set of Beliefs as it was constructed by the many bishops and pastors before me. I want to thank God for my parents, Bishop Steven K Butler Sr., and my mother Mother Jimmie Butler, for teaching and instilling in me these Nazarene Beliefs. It is my desire that each member learn each belief, and study and get an understanding of the beliefs, that you will be able to explain, and even defend if necessary the beliefs.
As a member of this church, you will be challenged on various beliefs, especially; "Why do you keep Saturday, Sabbath as your day of worship".
This question along with others (i.e., Eating Clean Meats, and the Feast Days). You will need to know and understand why you keep them. I also desire that each member become certified in either level one (1), level two (2) or level three (3) of the N.A.N.C. Beliefs.
Bishop and Presiding Prelate, Sabbath Keepers United Fellowship
Senior Pastor, Nazarene All Nations Church