Brief History: NAZARENES in Chicago (1890 – Present Day)
1890-1908: Mother Mattie L. Thornton Branch
(Founder of Nazarenes – and 1st Sanctified Church [1908] – in Chicago, IL )
Rev. James Wesley Hinant was ordained to preach in Methoid, N.C., July 1 1890. A set of twins were born, whom he and his wife named Laney and Chaney. Two years later, Rev. Hinant's wife passed. A year later, one of his twins fell asleep, Chaney. Rev. Hinant began to travel, preaching, losing two more of his children, leaving two girls to share his difficulties. Later he changed the name of the one living twin from Laney to Lena. Rev. Hinant in 1897 left the south and settled in Philadelphia, PA. He began to seek more of the LORD. Studying the scriptures and much prayer, he found in Hebrews 12:14; 1 Thessalonians 4:7-8; Isaiah 35:8, that the LORD made him to know the TEN COMMANDMENTS are right. Rev. Hinant began to read Exodus 20 and this made him to know that the Commandments, which GOD wrote with his own finger (Exodus 31:18, KJV). Rev. Hinantcontinued to keep the Faith and travel. Returning to New York, he held meetings in his home, which became too small. Later he rented a storefront. He incorporated the church under the name of Church of God.Later his daughter Carrie married one of the members of the church, Brother Jona Sturdevant. Brother Sturdevant was a real son-in-law, and this little group did most of the singing. After their street meetings, the crowd would follow them back to their mission.
At these street meetings, it was Lena's, Rev. Hinant's daughter, job to hold up the banner of the Ten Commandments. Rev. Hinant's health began to fail, but he would continue to attend his meetings, often resting along the way. He took to his bed on March 15, 1907; died March 17, 1907. He lived a true sanctified life, helping anyone who needed help, regardless of color. After Rev. Hinant's death, Rev. ("Chief Elder") Jonas Sturdevant continued the work of his father-in-law and was made Bishop. In the Spring of 1908, a missionary from Los Angeles, California, came to the church, reading and seeing the word was right. Rev. Sturdevant tarried for the baptism of the Holy Ghost and was filled. Among those that were filled with the Holy Ghost was Sister Mattie L. Branch (see photo above and right) . Three (3) weeks later, Sister Branch told the church that the LORD had spoken to her and said to take a group of people and go on a trip for him. Bishop Sturdevant inquired of the LORD and GOD confirmed the statement. The Holy Ghost gave each member his place in the body. Sister Branch was called to preach. Out of the group of men and women that sat in chairs, for prayer, to travel with, soon to be, Mother Mattie L. Branch, the Holy Ghost called out nine women: missionaries, teachers and preachers and one governess. The Holy Ghost told them to go to Buffalo, NY, Cleveland, OH, Chicago, IL and Los Angeles, CA.
The LORD gave Sister (Evangelist) Branch the bonnets (1 Corinthians 11:5-6, KJV) , worn apparel, for the younger and older groups. The Holy Ghost told them to go. As they had no money, (Sis. Lena collected only twenty-five (25) cents, among the nine women) the Lord provided the fare, through a white brother – during those times, for them to proceed to Buffalo, NY. Not having any money after arriving in Buffalo, they had to walk and let GOD lead them where to go – as they knew no one there. Another white brother talked with them in the station, at Buffalo, and told them of a mission six (6) blocks from the depot. Here they were greeted by some of GOD's children – a man and his wife, who gladly opened their doors and made them welcome.
"Historians credit female evangelist Mattie L. Thornton [Branch] as organizing the city's [Chicago] first sanctified church, the Holy Nazarene Tabernacle [A.F.] Church, around 1908." – Robert M. Marovich (A City Called Heaven: Chicago and the Birth of Gospel Music. UofI Press, 2015.)
"In 1908, Mattie [L.] Thornton founded HOLY NAZARENE TABERNACLE [A.F.] CHURCH, the FIRST Black Pentecostal congregation in Chicago." (Murphy, Larry G., J. G. Melton and G.L. Ward. "Pentecostalism" Encyclopedia of African American Religions. Routledge. 2003. 592. Print.)
The LORD led them to a house with a basement for rent. Seeing the owner, the LORD gave them use of the basement and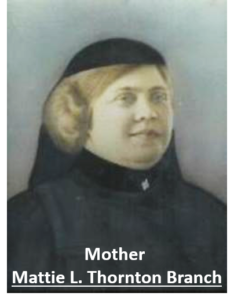 it soon filled up – so, they had street meetings. The police stopped the meetings because the people blocked traffic, and some complained of noise. They had taken up enough collection to rent the furnished basement apartment, and to buy food. Instead of buying food for themselves, they rented a tent, a man (a supervisor of the aforesaid tent company) gave them one (1) for two (2) weeks and sent men to set it up. The tent held three hundred (300) individuals, there was always a large crowd both black and white. Souls were saved each night. Meetings were held so late that the people who lived near complained, saying that 11:00pm was too late to hold meetings. One night the patrol wagon came and carried them all to jail. While the desk sergeant was taking their names, a white brother came and paid their bonds. The next night they had a larger crowd. When their two (2) weeks were up, the people hated to see them go. On their way to Cleveland, Ohio, the man (of whom was in the tent business) gave them a larger tent. People followed them from Buffalo, NY. Many people were healed and many, many souls were saved. After two (2) weeks in Cleveland, Ohio they travelled to Chicago, Illinois, there they held their first meeting at 26th and State Street, later meetings were held near the Stock Yards. A tent was purchased and put up at 25th and Wabash. These souls had many heartaches and disappointments, but came through with fasting and prayer, and by letting the Holy Ghost lead them. To God be the glory! Many souls were Saved, Holy Ghost Filled, healed and delivered. Many souls were added to the church in just 5 years (1908-1913) 6900 Souls "having been confirmed under her hand" (Broad Ax Newspaper Apr 1913. Print) – with more added as the ministry continued.

This is only a brief history of the Nazarene Doctrine. The Holy Ghost gave Mother [Bishop] Mattie L. Thornton Branch as she asked, what to name her church; "Holy Nazarene Church". The aforementioned was provided by Sister Lena Clayborn (see photo below) and literary document references by Bishop Steven. K. Butler, Sr. Sister Lena (Rev. Hinant's daughter), of whom later married Brother Clayborn, and this is the anointed Sis. Lena Clayborn.
PART 1: Nazarenes in Chicago (1908 & Beyond)
In the year of 1908 A.D., a group of women (eight (8)) came to Chicago from New York City, being led by Mother Mattie L. Thornton Branch. These were Evangelist Hay Craft, Sister Lena Clayborn, Sister Brown, Sister Lula E. Bynum, Sister M. Johnson, Sister Susie Lightfoot, Sister McDowell and Sister Bula Miles. Due to many obstacles they pitched tents in various parts of the city. On July 23rd of that same year, at 3:00pm in a tent on the corner of Wabash and 26th street, the eight women, with Mother [Bishop] Mattie L. Thornton Branch as the lead, began a three (3) week Evangelistic Campaign in which many souls were added daily to the Church. On Coming, they were converted, sanctified, and baptized with the Holy Ghost, and with water as evidence of their faith, then confirmed by the Elders of the Church and members of the Holy Nazarene Tabernacle.
In that tent meeting the Presbytery, Elders, Teachers, Governors, Helpers and Deacons were established in office. They worked hard singing, praying, and preaching. Not only were souls saved, but they were healed as well.

The Lord gave Mother [Bishop] Mattie L. Thornton Branch the name "NAZARENE" (Matthew 2:23, KJV) for the Church – and also head coverings for women (1 Corinthians 11:5-6, KJV), as well.

The Holy Nazarene Tabernacle A.F. was founded by Mother Mattie L. Thornton Branch in 1908 A.D. in the city of Chicago, IL and

incorporated March 26, 1913 A.D.
Holy Nazarene Tabernacle moved from the tent to the humble little mission on 26th Street between Armour and Lasalle, and continued the search for larger quarters in which to worship. Finally, they were relocated at 2963-5 South Dearborn Street, Chicago, IL in a beautiful church building. There were white, as well as black members, worshiping the LORD in the church.
During 1913-1915, Mother Mattie L. Thornton (Branch) faced a huge obstacle (recorded in legal documents and periodicals), when she temporarily traveled to spread the word – as she often contributed to the growth of God's ministry – upon her return a bold issue ensued. Prior to leaving she placed an "Elder B." in charged until her return; however, she returned to find that he (and colleagues) provoked members of congregation in contention against Mother Mattie L. Thornton's work and "Elder" had been named "Bishop B." After TWO years, she was able to return to her founded efforts of Holy Nazarene Tabernacle Church A.F. and goodness prevailed.
Many obstacles blocked their way making it necessary for them to move back into the streets holding tent services. At times they were arrested and carried to jail in police wagons. In the jails they would sing and pray, knowing Jesus was there with them. The Lord opened up the streets of Chicago for worship. Thru their suffering, they pitched more tent meetings: East 35th Street, Cottage Grove at 32nd Street, 75th and Vincennes and many in Morgan Park, after going from jail to jail, and courthouse to courthouse, they came to the Appellate Court. There the Lord worked with the judge and the saints gained the victory for the women to freely (in terms of the law) be able to carry the Gospel, in the beauty of Holiness and God's perfect will.
Surely we suffered, BUT GOD made the way. "Many are the afflictions of the righteous: but the LORD delivereth him out of them all" (Psalm 34:19, KJV). To God be the Glory!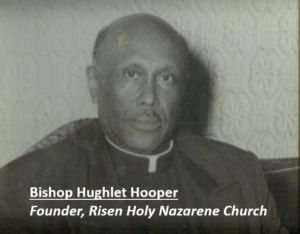 In 1920 Brother Hughlet M. Hooper (photo below, left) visited the church for the first time. In 1922 he received the Holy Ghost, and in 1931 he was made Bishop. Sister Ella Hunter (see photo) was saved in 1925 under Mother Mattie L. Thornton Branch. Mother Effie Bell (see photo below) was a great person and Nazarene Church at 31st and LaSalle Street, in Mother Hunter's home. Later they moved to 101 East 31st Street. From there they moved to 34th and Michigan Avenue. Souls were saved and the sick were healed. Sister Mary Carter Jenkins was saved and filled with the Holy Ghost under their leadership. She was ordained an Evangelist in 1935 by Bishop Hughlet Hooper.
In the latter part of 1935, Bishop Hughlet Hooper organized and named his church, Risen Holy Nazarene. Souls were added to the Church, both white and black members. Evangelist Jenkins worked hard with him in helping to bring souls to Christ. They later moved to 3628 South Wentworth Avenue. The Lord blessed Mother Hunter with a great work at 3155 South Michigan Avenue. At this location they were blessed with a home and Church.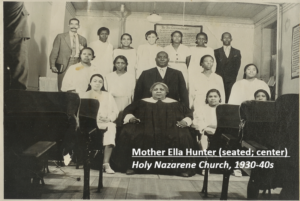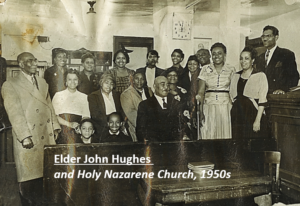 Pastor Louis W. Hooper was made a Traveling Bishop in 1940. On April 6, 1940, Mother Mattie L. Thornton Branch fell asleep
to grace. Elder McCray, Bishop Bell and others carried on the work. Mother Ella Hunter passed away in 1941.Later on, the building at 29th and Dearborn was purchased by the City of Chicago. The group bought another building at 42nd and Cottage Grove Avenue. Elder E. Spaulding was the pastor.
The 1st Colored Holiness church wasestablished in the City of Chicago onJuly 8, 1940, at 11458 S. Duvol Street, Chicago, IL. Bishop Effie Bell succeeded the office of our founder and first Bishop, Mother Mattie L. Thornton Branch. The church has been wandering through the wilderness in the work where Bishop Mattie L. Branch, William H. Wilson, John Washington, William Washington, Wade Perkins, Robert McDowell, David Burdell and Robert Acklin missioned.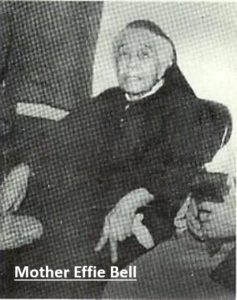 In the year of 1957 thru fasting and prayer the Lord moved on Deacon Aaron Hicks, Mother Pallis Hi
cks, Rev. Willie S. Lawhorn and Supt. Cardelia Lawhorn to try to build a new Nazarene Church for the Lord. Deacon Aaron Hicks said the Lord led him to an old woman and he presumed it was Mother Effie Bell, He told her what the Lord said to him, and laid the plans out before her, she said the Lord had told her He was going to send her a people. With the Aid of others she set up the body at 7351 South Princeton Avenue. Bishop Bell worked with Rev. Willie Lawhorn and Minister Aaron Hicks (as he was ordained Minister at a later time). The Lord blessed them to build a new church from the ground up at 7055 South Carpenter Street, Holy Nazarene Tabernacle. Bishop Bell also set up church in Morgan Park, Branch Memorial Nazarene Church. This Church was pastored by Elder Clyde Towns. Bishop Bell passed away in 1977.
On September 11, 1968, Evangelist Mary Carter Jenkins established Beacon Holy Nazarene Church. Mother Jenkins named the church, Beacon Holy Nazarene utilizing the biblical reference, Isaiah 30:17. The church was incorporated by the State of Illinois on November 25, 1969. Beacon soon outgrew Mother Jenkins; home and therefore, moved to 1516 W. 69th Street in Chicago Illinois. The Lord continued to bless the ministry, and on October 26, 1972, under the leadership of Reverend Mary C. Jenkins, a church building located at 10957 S. King Drive was purchased; where it remains today.
Nazarene All Nations Church| 6500 S. Ashland Ave, Chicago, IL 60636 | (773) 778-8500 ph.